This product has been discontinued.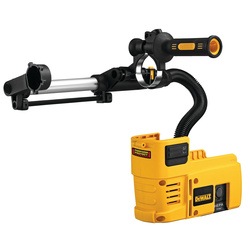 Dust Extraction System for 36V SDS Rotary Hammer
D25302DH
Warranty & Service Information
FAQs
?

Can I use a 1" drill bit with my D25302DH dust extractor?

The design specification is for drill bits up to 5/8". Using a bit larger than 5/8" is not recommended as the brush in front will be worn out prematurely or even be destroyed. The spiral of the bit will squeeze the brushes and they can crack or will be pulled due to rotation. Not having a brush, or cracked brush elements, will lessen the performance of the product.

?

Does the D25302DH dust extraction system come in a complete kit with hammer drill, batteries, and charger?

Yes. You can purchase the DC233KLDH, which includes the DC233 36 volt SDS rotary hammer, D25302DH dust extraction system, (2) 36 volt Lithium Ion batteries, charger, and a kit box.