This product has been discontinued.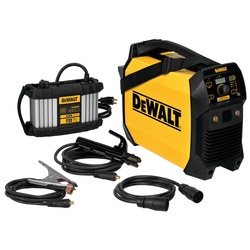 Portable Stick & TIG Welder
DCW100K
Warranty & Service Information
FAQs
?

Do you have an MSDS for the DEWALT DCW100K Welder?

Please see the attached for the DCW100K MSDS

?

AUTOZONE Q2 2017

We are offering the following DEWALT manufacturer's mail-in rebates with the purchase of select DEWALT tools from any authorized participating AutoZone, Inc retailer. Please note the following promotion highlights:

 

| | |
| --- | --- |
| I BOUGHT | I GET |
| DCK397HM2 | DCF880B |
| DCK398HM2 | DWMT73801 |
| DCF899HP2 | DCF880B |
| DCF899P1, DCF889HM2, DCF889M2, DCF880HM2, DCF883M2, DCGG571M1, OR DCS371P1 | DCF883B, DCL050, OR DCD780B |
| DCGG571B, DCK283D2, DCK280C2, DCD980M2, DCD791D2, DCG412P2, DCS371P1, DCS380P1, OR DCS387P1 | DCL050 OR DCE100B |
| DCF813S2, DCF610S2, DCK211S2, OR DCK212S2 | DCL510 |
| DCD771C2, DCD780C2, OR DCS355D1 | DCL050 |
| DCW100K | DCF899P1 |
| DWE1622K | DCF899P1 |
| DWMT70774, DWMT70773L, DWMT70776, D55146, D55154, D55151, D55167, OR D55168 | DWMT70784 |

This offer is 

only

 available at 

participating authorized AutoZone,Inc retailers.

You must purchase a qualifying tool between April 1, 2017 and June 30, 2017.
You claim must be postmarked on or before July 15, 2017.

To receive your rebate you must include the following:

A redemption form completed in its entirety. Download the attached file located at the end of this answer.
Original AutoZone, Inc. sales receipt(s) or sales invoice(s) dated between 04/01/2017 and 06/30/2017. Photo copies will not be accepted (except for RI residents). It is recommended that you make a photo copy of all submitted materials for your records. Note: To resolve any potential questions or issues regarding your submission, you may be required to mail or fax these copies.
Original UPC barcode cut from the outside product packaging of the DEWALT product purchased.

In a stamped envelope mail the above items to:

DEWALT
DWRP186
PO Box 42833
Towson, MD 21284

Please allow 5-7 weeks for delivery. To check the status of your rebate please call 866-444-5290.

Thank you for your interest in DEWALT tools. It has been our pleasure to provide this information. For additional details, disclaimers and exclusions please read the fine print found on the rebate form.